TRINITY UNITED 
CHURCH OF CHRIST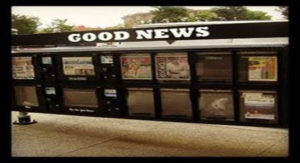 The Good News of Advent When There Seems to be

 NO GOOD NEWS…
November 29-December 27, 2020
Come, join us as we walk with God and deepen the spiritual connections within ourselves, with each other and with our community and the world during this Advent and Christmas Season. Invite a friend to make this journey with you.   
Some recent headlines in the news:  ◊◊ Cases of Covid 19 approach over 100,000 per day; ◊◊ Covid 19 has killed over 225,000 Americans; ◊◊  Another Black man killed by police ◊◊ 3 dead in apparent terrorist attack in Nice, France ◊◊  Walmart puts guns back on display cases.  Indeed, "we sure could use a little good news today". To be honest, there are not many 'good news headlines; they are overwhelmed by the 'bad news'.
A song released in 1983 by the Canadian country music star, Anne Murray, still today in 2020—maybe especially in these times–stirs in us the desire if not a deep need for "a little good news today" in our lives.  In one verse and the chorus, Murray sings,
There's a local paper rolled up in a rubber band
One more sad story's one more than I can stand
Just once how I'd like to see the headline say
"Not much to print today, can't find nothin' bad to say", because
Nobody robbed a liquor store on the lower part of town
Nobody OD'ed, nobody burned a single buildin' down
Nobody fired a shot in anger, nobody had to die in vain
We sure could use a little good news today   
How do we as people of faith respond?  How does the church respond?  How do we talk about these headlines and challenges as we come to the end of 2020? and as we enter a new Christian calendar in the season called, 'Advent'?  Is there any good news to share?
Yes, there is good news in Advent and Christmas, and by this theme — "The Good News Gift of Advent"– we will explore the reasons, lots of reasons, that we re-claim the power of Advent in our lives.  What is the gift of Advent this year?  It is a multi-layered gift we need more than ever:  Hope, Comfort, Joy and Courage.  Drawing mostly on four texts from the prophet, Isaiah, we will explore these gifts we surely need as 2020 comes to an end: Hope, Comfort, Joy and Courage.  Join us for worship for "the gift of Advent and the gift of Christmas. 
November 29 – First Sunday of Advent    – 10:45 a.m.
Theme: "The Good News Gift of Advent: HOPE!"
Scriptures:  Isaiah 64:1-9; Psalm 80:1-7, 17-19; Mark 13:24-37
Sermon: "Hope or Humbug?" or "Who Got It Right? Scrooge or Bob Cratchit?"
Advent Candle:  HOPE – **Video of our children and their family  lighting their advent wreath at home
December 6 – Second Sunday of Advent – 10:45 a.m.
Theme: "The Good News Gift of Advent: COMFORT!"
Scriptures:  Isaiah 40:1-11; Ps. 85:1-2, 8-13 & Mark 1:1-8
Sermon: "Be the Comfort to Others You Want for Yourself"  
Advent Candle:  PEACE **
Sacrament of Holy Communion – self-directed at home
December 13 – Third Sunday of Advent – 10:45a.m.
Theme: "The Good News Gift of Advent: JOY!"
Scriptures:  Is. 6:1-4; 8-11; Luke 1:46b-55; John 1:6-8' 19-28
Sermon: "Be the JOY to Others You Want for Yourself'
Advent Candle: JOY ** 
December 20 – Fourth Sunday of Advent – 10:45 a.m.
Theme: "The Good News Gift of Advent:  COURAGE"
Scriptures:  Isaiah 35:1-10; Luke 1:26-38
Sermon: "Courage that Overcomes Fear" or 
"Sometimes Courage is All We Have"  
Advent Candle:  LOVE and COURAGE **
The Good News Gift of Christmas 
December 24 – Christmas Eve 6:30 p.m.  
BROADCAST ONLY ON FB LIVE AND YOUTUBE
No In-Person Worship
Theme: "The Good News Gift of Christmas" 
– Service of Candles and Carols
Scriptures:  Isaiah 62:6-12; Ps 97; Titus 3:4-7; & Luke 2:1-20
Sermon: "The Good News Night of Our Lives"  
Lots of traditional Christmas Eve Singing 
Zoom Christmas Eve "parties" and gatherings before and/or after the Broadcast of the Christmas Eve Service
December 27– First Sunday After Christmas – 10:45 a.m.
Scriptures:  Isaiah 61:10-62:3 Ps 148; Luke 2:22-40
 (Jesus presented in the Temple) 
A Quiet Contemplative Service of Reflection on the Good News You Discovered this Advent and Christmas
If you are looking for warm people who will love you just as you are, consider worshiping with us. Trinity United Church of Christ has been welcoming seekers for over 250 years, and we invite you to be part of our long tradition of welcoming! Worship at Trinity is participative, held in a beautiful traditional sanctuary with inspiring sermon series and a diverse musical offering from our choir and congregation.  
Our faith is 2,000 years old. Our thinking is not.  We believe in God's continuing testament. This is why we are committed to hearing God's ancient story anew and afresh in our lives and in the world today. We try to remain attentive to God's creative movement in the world. Religion and science are not mutually exclusive, and your head and heart are both welcomed into our places of worship. We prepare our members and leaders to be engaged in ministry in the present and future church, and we embrace all kinds of communities and new modes of thinking. Why? Because God is still speaking.
Beyond Our Walls.  Trinity is committed to the community beyond our walls in Manchester, or even in Carroll County.  We are involved in a variety of outreach efforts in the name of Christ.  Food Bags for Backpacks:  Food items are collected monthly during the school year for Manchester Elementary School for students who receive Free/Reduced meals.  
Cold Weather Shelter:  We cook for the residents and staff of the cold weather shelter in Westminster, MD. We began this effort several years ago by working at the shelter one night and have expanded to working two nights during the winter months. Prayer Shawls are made and blessed monthly for those needing a spiritual touch.  Caring Committee:  The caring committee responds to emergency requests from the community. We partner with Human Services Programs and NESAP to guide individuals to resources available in the community. 
Trinity United Church of Christ, 3229 York St., Manchester, MD  21102, e-mails:  pastortucc@comcast.net   trinityuccmanchester@comcast.net;  410-374-2727  www.trinityuccmanchester.org, &  Facebook