Faith
Who We Are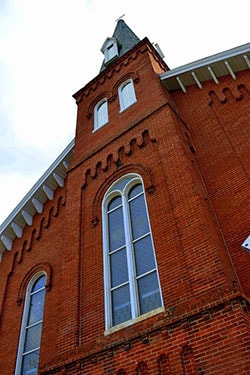 Our faith is 2,000 years old. Our thinking is not.
We believe in God's continuing testament. This is why we are committed to hearing God's ancient story anew and afresh in our lives and in the world today. We try to remain attentive to God's creative movement in the world. Religion and science are not mutually exclusive, and your head and heart are both welcomed into our places of worship. We prepare our members and leaders to be engaged in ministry in the present and future church, and we embrace all kinds of communities and new modes of thinking. Why? Because God is still speaking.
What We Believe
Testimonies of Faith
We believe in the triune God: Creator, resurrected Christ, the sole Head of the church, and the Holy Spirit, who guides and brings about the creative and redemptive work of God in the world.
We believe that each person is unique and valuable. It is the will of God that every person belong to a family of faith where they have a strong sense of being valued and loved.
We believe that each person is on a spiritual journey and that each of us is at a different stage of that journey.
We believe that the persistent search for God produces an authentic relationship with God, engendering love, strengthening faith, dissolving guilt, and giving life purpose and direction.
Our Faith Story
Trinity's story is a faith story as its members continue to look to the Bible to discern God's will in a modern age. The center of our faith is Jesus Christ, the risen Lord, who calls us to discover the way of discipleship in our time. The Holy Spirit gathers us and empowers us for ministry. We practice infant and believer's baptism and open communion. Our common faith is summarized in the statement of faith of the United Church of Christ. We invite you to join us in our faith journey and invite you to help write the next chapter of Trinity's story in the new millennium.
The Larger Church
Trinity is part of the United Church of Christ, which is made up of four separate former denominations: The Reformed Church, the Evangelical Synod of North America, the Congregational Church, and the Christian Church. The Congregational and Christian Churches merged, as did the Evangelical and Reformed Church. These mergers were completed by the mid 1930's. In 1957 the Evangelical and Reformed Churches and the Christian churches merged to form the present day United Church of Christ. Trinity is in covenant fellowship with 41 other churches of the Catoctin Association and with the nearly 200 congregations of the Central Atlantic Conference which covers an area from New Jersey to Richmond, Virginia and from the Shenandoah Valley to the Chesapeake Bay.