Preserving Manchester's Historic Light
Trinity United Church of Christ has been a part of Manchester long before the current building's cornerstone was laid in 1863. The connection between Trinity and the town is evidenced by the presence of the church's steeple on Manchester's logo. Over the years, the townspeople of Manchester have thought of the light in Trinity's steeple as a sign of welcome and comfort.
Trinity has played and continues to play a vital role in Manchester, not only by serving as a spiritual home, but also by responding to a variety of community needs.
The church building is architecturally significant and listed on the Maryland Historical Trust's Inventory of State Historic Sites. The ornate church nave and the decorative tin ceiling are seldom seen in churches today. Unfortunately, the ceiling above the sanctuary is sagging. Closer inspection reveals that many of the original rough-sawn trusses have sheared, split or cracked.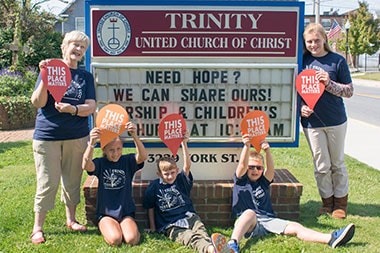 Due to the damage, the congregation can no longer safely worship in the sanctuary. Every effort is being made to restore the ceiling, allowing the congregation which has been a presence in the community for over 250 years to continue to serve the community of Manchester.
The cost of the repairs is significant. The ceiling and truss repairs will cost over $300,000 to restore and will take almost six months to complete. Without this restoration work, the church would need to close, extinguishing the light of an important center piece of Manchester's history.
Please help support the efforts to preserve Manchester's historic light.
If you prefer to mail your donation, our address is: Trinity UCC, PO Box 730, 3229 York Street, Manchester, MD 21102
Restoration Progress Gallery