Staff & Leadership
Pastor Suzanne Adele Schmidt
Suzanne is a fifth-year career pastor, having taught grade school through graduate school, worked in industry, owned her own consulting practice, and worked for a not-for-profit before attending seminary. Suzanne is a Pittsburgh native who moved to Maryland in 1990, the year she joined the United Church of Christ. She married the love of her life, Dan Davis, in 2001 and the music keeps on playing for the two of them. They are grandparents to Frances, Henry, and Felicity and aunt and uncle to many! Suzanne loves to read and study God's word. She has worked with a spiritual director for over 20 years. Suzanne is serious about life and her faith but not so serious about herself. She believes that the gifts are in the people of God and enjoys partnering with others to glorify and serve God.
What do you do here at Trinity?
Preach, teach, provide pastoral care and leadership, plan worship, and develop ways for people to get involved within our walls and beyond our walls.
Director of Music Ministry – Benjamin Starr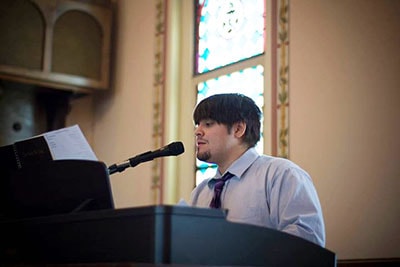 A native of Baltimore, Benjamin Starr was born in 1989. He graduated with a Bachelor of Arts in Music from Swarthmore College in 2011. After living in Philadelphia for a couple years, Ben returned home to Baltimore in 2013, and shortly thereafter began his work at Trinity. Trinity has seen Ben through a period of immense growth, spiritually, personally and professionally. Ben lives in Pikesville with his partner, Candice, and their children, Adriana and Mason.
What do you do here at Trinity?
I lead our congregation in music ministry.
Secretary – Diane Aberts
Diane has lived in Carroll County most of her life. After graduating from North Carrol High School in 1967, she went to work for C & P Telephone Co., which became Bell Atlantic and finally Verizon when she retired in 2003. Diane came to work for Trinity in 2004. Diane has two beautiful daughters Shannon and Stacey and five awesome grandchildren.